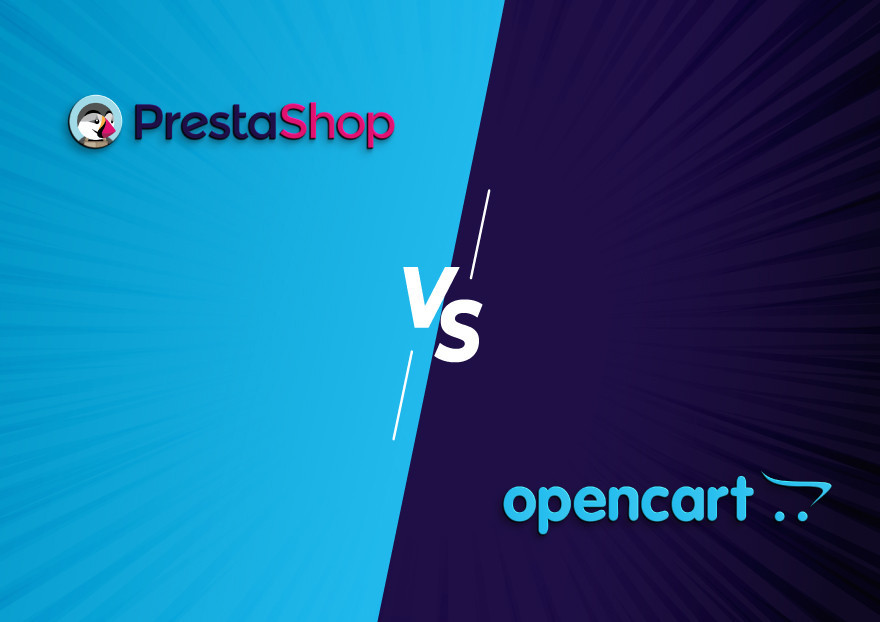 PrestaShop vs OpenCart: A detailed comparison of e-commerce platforms
E-commerce is one the rise today. The number of online stores has increased over the past few years. No wonder, because the main advantage that encourages millions of people to make online purchases again and again is ease, comfort and time savings. The transition to online trading seems like a very profitable decision since it opens up many opportunities for small and medium-sized entrepreneurs who are entering the world of e-commerce.  
We continue to review and compare PrestaShop with other shopping carts to make it easier for you to choose the best website builder in your opinion. In this article, we will break down OpenCart's main features and capabilities against those of PrestaShop. Let's get to know them a bit better before we get started.
Who is PrestaShop?
Surely you have heard of PrestaShop - an open-source e-commerce platform that helps you easily create highly functional online stores for any business. It comes with a rich set of features, advanced tools and captivating themes to make your website look professional. Thanks to the user-friendly interface, creating and managing a PrestaShop store will be easy even for non-technical users.
Who is OpenCart?
OpenCart is a free and open-source e-commerce platform. Among users, it is known as an extremely simple website builder with a large number of free modules and tools. OpenCart allows you to create online stores of any complexity and at the same time enjoy stable performance. This is a great option for those who want to quickly create a compelling website full of wide-ranging features.
User-friendliness
PrestaShop is known for its simplicity and impressive user experience. Setting up a store, choosing a theme and design, creating products will become hassle-free for users. The responsive interface of PrestaShop makes it simple for non-tech-savvy users to work with it.
Speaking of OpenCart, we cannot but mention its ease of use. The interface of the Admin Panel is quite clear and understandable, making the platform popular among users. You have advanced and superior features at your fingertips to help you increase your sales and manage your store effectively.
Templates and themes
Over 1500 ready-made store themes are available on the official PrestaShop Addons Marketplace for customizing any store design. But it has to be stated that none of them is free. Prices range from 83,99€ to 279.99€ depending on the quality. To assist users in making the best decision possible, themes are grouped into groups based on the topic, the store's language, included features, reviews, structure and design.
OpenCart offers its users a huge selection of templates. Templates can be downloaded from the official OpenCart Template Store or third-party resources like TemplateMonster, ThemeForest. New OpenCart themes are released on a regular basis, delighting customers with fresh designs.
SEO
PrestaShop comes with a lot of SEO features right out of the box. The platform provides its users with a variety of features that will make their products easily recognized and selected by search engines. PrestaShop allows you to generate SEO-friendly URLs automatically, edit pages, rank meta tags, utilize canonical tags, etc.
OpenCart has all the significant SEO features to promote your online business. All product and category pages and title and title tags can have meta keywords and descriptions assigned. However, you do need to have some PHP coding skills to optimize your shop's ranking on search results pages, such as editing meta tags, adding 301 referrals and so on.
Pricing
As an open-source platform, PrestaShop is free to download and use. But there will still be some costs involved. The user must purchase paid web hosting, the cost of which will vary depending on the hosting provider. Also, to get a fully functional online store, you can not do without purchasing some paid modules. But no worries about expenses. Before building your e-commerce website, try PrestaShop's free demo version, which will give you a walkthrough how the software works and will be the charges you need to pay for.
OpenCart is also an open-source platform. This means that you can download and use it for free. But there are some costs involved here. Hosting, a domain name and an SSL certificate are the basic expenses needed to get started.
Support
PrestaShop has a large community of people helping e-commerce merchants solve platform-related issues, discuss questions on different topics and find answers to them through services and forums. Additionally, PrestaShop offers paid support. Prices vary based on the plan, which provides different levels of support.
Users of OpenCart may pick from a variety of support options, including online documentation, video tutorials, blogs and a forum. However, its community forum is smaller than those of other platforms. The OpenCart public forum is quite active. You can easily find a solution to the problem associated with your online store.
Conclusion
At first glance, both CMS are almost identical to each other - they are free, you can install them on your hosting, they have similar basic functions for online sales, a marketplace with a huge number of add-ons and so on. PrestaShop and OpenCart will help you create an online store from scratch with many advanced features that will further help you expand your business. Choose the platform that best suits the requirements of your online store and will be the most effective for completing tasks.
However, PrestaShop is a good option if you're just starting off and don't have a lot of money. It is a wonderful option to consider because of its numerous features. The setup procedure is simple to follow and may be learned from their demo. You do not need to be a tech expert to set up, but you must follow the setup instructions. Remember that you may use marketing options such as discount mode, coupon codes, free shipping, email marketing, affiliate programs and gift packaging to boost your sales.
Comments
No comment at this time!