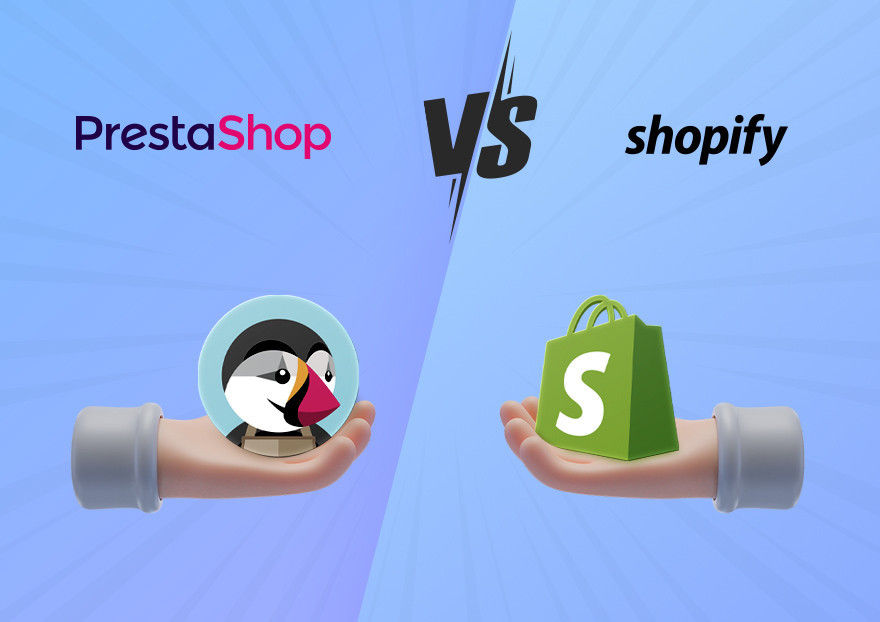 PrestaShop vs Shopify: The best option for your business
Hundreds of different shopping carts are available today to help businesses of all sizes create and manage online stores from the ground up. Choosing the right shopping cart that will meet your requirements and be ready to serve your business for the long haul is an important part of building any e-commerce store.
We'll review and compare the key features of two major e-commerce platforms, PrestaShop and Shopify, to make it easier for you to pick the most suitable one for your business.
Who are PrestaShop and Shopify?
PrestaShop is an open-source shopping cart designed to quickly launch an online store. Thousands of business companies and entrepreneurs all over the world are using PrestaShop to start their online stores. It is free to download and use, offering its users many powerful and comprehensive features to enable them to create their dream shops.
Main advantages of PrestaShop
Free demo is provided
Lots of responsive themes
Feature-rich platform
Built-in payment modules
Ease of use
Shopify is the most famous and popular e-commerce platform in the world. Its main advantage is the simplicity and high speed of launching new stores, which provides the service with stable demand among small and emerging companies with a minimum turnover. Shopify has everything you need to build a successful online business, from built-in features to appealing templates.
Main advantages of Shopify
Free demo available to help you get started
Large selection of topics
Huge number of plugins to choose from
Unlimited products on all plans
Integrated payment options
PrestaShop vs Shopify: Key features
Both PrestaShop and Shopify provide a wide range of various features that allow you to create, sell and manage products easily and quickly. However, there are some differences between these shopping carts that may further affect your choice. Let's take a look at the key features and compare their possibilities.
Ease of use
Shopify is very easy and straightforward to work with. It has an easy-to-use interface that does not require any prior coding or technological skills to use. This will save you a lot of time and money. Set up the store to your preferences and needs and your online business will be up and running in no time with beautiful design and out of box features.
PrestaShop is also free to download and use. The platform allows you to create a website that is both user-friendly and functional. Even sellers with no technical knowledge will be able to quickly and easily set up a PrestaShop store. After creating an e-commerce website on PrestaShop, you can easily manage your website and perform different functions.
Pricing
Being an open-source platform makes PrestaShop absolutely free which means that you can download and use it at no cost as much as you want. You will not be charged any monthly fees, and no commission will be withdrawn from your sales. This is a great option for small businesses entrepreneurs that are just starting their careers.
In turn, Shopify offers a monthly subscription, the cost of which depends on the chosen plan. Subscription plans range from $29 to $299/month. Besides, you can start off with a 14-day free trial to see for yourself which plan is the best fit to your business.
SEO-friendliness
Proper setup of SEO and page addresses ensures the convenience of using the site for users and successful promotion in search engines. PrestaShop enables you to better manage your website's SEO positioning. PrestaShop stores normally rank higher in Google search results if they are well-configured. You can customize each page, add high-ranking meta tags and even generate SEO-friendly URLs.
Shopify offers robust search engine optimization (SEO) solutions to help your website rank higher in search results and be easily found on all major search engines. You'll also have access to advanced analytics that show you where your customers are coming from so you can adjust your marketing strategy if necessary.
Security
Having an online store means you will be dealing with sensitive customer information, including credit card details. This implies that your website must be both fast and secure.
Prestashop's well-established security system will keep outsiders from acquiring your site's data. The technology protects the website, as well as user data, from hacker assaults and hacking. SSL compatibility, encryption of administrator and database passwords, repeated password recovery attempts blocking and so on are some of the security features.
Shopify takes care of maintaining and updating the server so that your store is always available to customers and also ensures that pages load quickly. SSL certificates will be integrated into your Shopify store to encrypt data and transfer it over a secure connection. Also, Shopify handles PCI compliance which is required when you deal with credit cards.
Design and templates
PrestaShop offers limitless possibilities for customizing your store the way you want. On the official PrestaShop Addons Marketplace thousands of templates are available for your usage. Many free PrestaShop themes and templates for any type of business can be found on third-party websites such as TemplateMonster.
You can discover a lot of themes in the Shopify Themes store, each of which is adapted for mobile devices. In addition, hundreds of themes are available from sites such as ThemeForest and others. However, because Shopify is a hosted shopping cart, your customization possibilities are restricted. Shopify now provides 10 free website templates, with premium themes starting at $140.
Customer support
PrestaShop offers chargeable support to get in touch with a representative. Different plans offer different levels of support. The platform has a large community who come together to solve problems and discuss questions through various forums and services.
Shopify puts a lot of emphasis on customer support. Their team is available 24 hours a day, 7 days a week, responding to a request almost instantly. This means that you will always receive quick responses to platform-related questions. The customer service department may be reached by phone, email or online chat.
For whom?
For small and medium-sized businesses, as well as for large online stores, PrestaShop will be a profitable choice. It comes with out of box functionality and all important features required to set up a successful online store. For low-budget businesses, this is a lucky draw as it's completely free to use.
Shopify's powerful website builder with an impressive feature set makes it ideal for managing and scaling different sizes of business. But bear in mind that the platform is not chargeless. The volume of your online store will determine the subscription plan, which starts at $29 per month.
Conclusion
Essentially, PrestaShop and Shopify are both strong tools with many advanced features that anyone can use to start their own e-commerce business.Thanks to its hundreds of modules, PrestaShop is a highly adaptable e-commerce platform. The platform is ideal for worldwide sales and quite simple to use.
Nevertheless, it's up to you to decide which shopping cart would best suit your requirements. We recommend that you try a free demo version of the platforms before using either.
Comments
No comment at this time!